The New York City Inline Skating Guide
Clubs and Leagues: Group Skates
---
---
There are a number of organized and semi-organized group skating ventures roaming the city at various times of the week, primarily during the summer and autumn months.
Tuesday Night Skate:
Formed in 1990 or 1991, the oldest group skate in town is the Tuesday Night Skate (TNS), which meets every Tuesday at 8:00 p.m. at Blades West at 156 West 72nd St. (a few doors east of Amsterdam Ave.). It skates year-round, weather permitting. Call the Empire Skate Club hotline at 212-774-1774 for more info.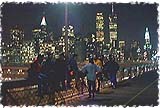 The number of people who join the TNS depends on the weather. A handful of hardcore regulars will skate during even the coldest depths of February and up to 40 for summer skates. Good street skating skills are a must, as the ability of most regular participants is intermediate or better; it is not uncommon for several of the skaters to show up in five-wheeled racing skates. In other words, most TNS tours are fast-paced, and new or casual skaters could easily be left behind. One city magazine commented about the TNS in the late 1990s that "they care more about skating than they do about you." The Tuesday Night crew took this as a compliment.
The TNS route skated changes every week, but the most frequent (especially during fall and winter) destination used to be the South Street Seaport, then back (approx. 13 miles round-trip). During warm weather, longer jaunts to places like Prospect Park in Brooklyn or the Dairy Queen in Fort Lee, NJ, (both about 19-20 miles total) will occur two or three times a month. A skate to Hoboken via the GW Bridge (with return by PATH train) might occur once a year (25 miles).
The TNS became an official Empire Skate Club event in early 1999. It was originally organized in connection with what became the New York Road Skaters Association but had been independent from late 1994 to the end of 1998. As with any Empire event, helmets and wrist protection are either required or at least extremely strongly encouraged. Blinky lights and/or reflective clothing are also very highly recommended, not only for safety's sake but to make you street-legal.
Wednesday Night Skate:
In May 1996, a Wednesday night skate called Blade Night Manhattan hit the streets during the months of the "skating season". Although it originally followed a set route around Midtown, it switched in 1997 to varied routes. In 2001 it officially became known as the Wednesday Night Skate.
The Wednesday Night Skate currently meets along the steps on the south end of Union Square (14th St. at Broadway) at 7:30 p.m. and starts skating at 8:00. The event runs from April 1 through Halloween, but might also meet outside that period if the weather is good. The pace is moderate but you do need to be comfortable skating on open streets and in a large group of people. See the Wednesday Night Skate website for more info.
The Wednesday Night Skate tends to draw many more participants than does the Empire Tuesday Night Skate, probably because of its slower pace, shorter routes, and somewhat more convenient starting point. Thus, it often has more than 100 participants and has been known to exceed 200 (e.g., see the Aug. 1, 1997, New York Times). The group can at times be extremely noisy, with lots of whooping and cheering (sometimes encouraged by the leaders).
The Wednesday Night Skate are also more organized than the TNS, with a number of guides/marshalls monitoring intersections and trying to minimize conflict with cars that want to pass. However, there's only so much they can do, and as seems to happen to with any group skate, most people don't seem to listen when someone calls out that there's traffic coming up from behind. The skill level of the skaters is also quite mixed, though it generally seems about average.
Thursday Evening Skate:
Since 2008, the Central Park Skate Patrol has organized a leisurely, social skate around the Central Park Loop on summer Thursday evenings. It starts at the Columbus Circle entrance to the park; meet at 7 p.m. and be ready to roll at 7:15. For more, see the Skate Patrol website.
The Thursday Evening Skate is intended for skaters who are looking for a group skate but who don't feel the need to be out on the streets or to be zipping around at high speeds. Any skater who's progressed beyond basic braking lessions and who is comfortable navigating the hills of the Central Park loop should be able to handle this tour. After the skate, participants usually adjourn to a nearby skate-friendly restaurant.
(Note: The Skate Patrol TES is pretty much the same in concept as the Thursday Evening Roll once organized by the Empire Skate Club.)
Weekend Morning Skate:
The Empire Skate Club has generally had a weekend morning skate ever since the club first formed. For several years it was a regular Sunday morning event, usually meeting at the Merchants Gate/Columbus Circle entrance to Central Park at 10 or 11 a.m., but in 2005 it became less predictable. Since 2009, the event has been held about three times a month, split about evenly between Saturdays and Sundays. Check the Empire calendar to see what they're doing this weekend and which day it is.
A moderate Empire weekend skate might be a tour that attempts to travel to all the islands touching and in the East River, i.e., a 10- or 15-mile circuit that visits Manhattan, Roosevelt Island, Randalls/Wards Island, and Long Island (Queens and/or Brooklyn). On the more strenuous side might be a skate out to Little Neck Bay in northeastern Queens and then back, a 40-mile tour if one does the entire distance (there's always an option to join/leave this particular event at the Mets subway station). And once or twice a summer, the group will catch a train up to Connecticut and do a relaxing 10-mile skate along the beach, and a little swimming, too.
Time's Up! Group Bike/Skates:
There are several other opportunities each month — especially during the summer — for joint group cycle/skate activities. Well, they're really bike events, but skaters do sometimes tag along. All seem to be sponsored or co-sponsored by Time's Up! (212-802-8222). Among these events are:
On the first Friday of the month and on special occasions, the Central Park Moonlight Ride takes place, with cyclists and skaters meeting at 10 p.m. at the Columbus Circle entrance to the park. This is a low-key, relaxed event. However, they do occasionally venture "off-trail", so skaters will certainly want to carry some sort of illumination in order to avoid cracks and tree crud. There's a similar Moonlight Ride in Prospect Park on the second Saturday of the month at 9 p.m.
During the spring and summer months, Time's Up! also organizes events such as the Earth Day Ride, Cyclone Ride (City Hall to Coney Island), the Historic Ride, and many others. Check their website to find out what's scheduled and when.
Saturday GroupSkate and FamilySkate:
The NY Skateout instructional program organizes social skates which rove around the Central Park loop at various times of the week, including weekday lunchtime. See their website for details.