Where to Skate: Queens
---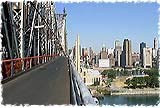 Queensboro Bridge bikelane
Northwest Queens
(Long Island City, Astoria, Sunnyside and Jackson Heights)
Skating directly between Manhattan and Queens is done using the "north outer roadway" bike lane of the Queensboro Bridge. Access on the Manhattan end is a little tricky, as you need to get on the bike lane near the corner of First Ave. and 60th St., skate uphill and west, and then pull a 180° turn to start heading up the actual lane on the bridge. The entrance on the Queens end is a lot easier to navigate and is located at the corner of Queens Plaza North and Crescent St. Actually, the Queens end may be too easy to navigate, as someone tried to drive a car onto the bike lane from there in late 2012, and there were reports of cops parking their squad cars on the bike lane a couple years before. Certainly we have encountered police three-wheelers parked at the top of the bikelane, mid-bridge.
Although the Queensboro Bridge is much used by commuters on bicycles, it is a challenging skate. The ascent is long, especially from the Queens side, and of course the descent is too. Heading downhill on the Manhattan side, you must be prepared for the sharp turn or else you will be in a world of hurt. If you T-stop, prepare for excessive wear to your wheels if you skate over the Queensboro a few times.
For those of you who instead skate into Queens via the bridge from Roosevelt Island, you'll immediately find yourself on 36th Ave., enjoying the smell of baked goods from a nearby bakery.
There are also barely skateable pedestrian lanes on each side of the Triborough Bridge leading to/from Manhattan and the Bronx. We say "barely" because there are stairs. The entrance on the Queens end is on Hoyt Ave. North at 26th St. As noted elsewhere, though, pedestrian entrances to the Triborough are sometimes gated shut, and the walkways themselves may be cluttered with garbage and large puddles. Also, the Queens entrance includes a long, steep stair sequence.
Dutch Kills Playground:
This is a paved playground next to a school at 27th St. and 37th Ave., Long Island City. There is a large paved baseball diamond which would probably be a good place for newbies to practice on their new wheels. Of special note is the DaSilva Rollerhockey Rink also located here.
Astoria Park:
The paths in Astoria Park, along the East River just north of the Triboro Bridge, are in good shape and make fine skating. However, the park is hilly and I suspect busy with baby carriages, small children, etc., during the daytime, so be careful and considerate if you skate here at that time.
In the evening, the park is fairly quiet and reasonably lit, so skating should be much more fun then. And if you want a spectacular view of Manhattan's Upper East Side, be sure to skate down to Shore Blvd. along the west side of the park and look out across Hell Gate and the East River. There is something of a promenade along Shore Blvd. from the Triboro up to 20th Ave. but we can't get too excited about it because of the pedestrians and because of the thumping beat coming from car stereos out on the street.
Torsney Playground (aka Skillman Park):
This park is located at the intersection of 43rd St. and Skillman Ave., on the border between the railyards and a Sunnyside residential neighborhood. Of note, it has an area set aside for rollerhockey. The asphalt is supposed to be in excellent condition and there are painted lines representing a hockey rink, including blue lines, red line, goal line, goal crease, face-off circles, and of course rink boundary. Hockey nets have also been available, but there has apparently been a problem with theft. There is organized little league baseball going on here on summer weekend mornings, with games usually ending by noon, but even then, about half the rink can still be skated.
Jackson Heights:
For east-west travel across this section of northwest Queens, 34th Ave. has a marked bikelane running from the Brooklyn-Queens Expressway (or about 69th St.) to 114th St. near CitiField. Asphalt quality is variable; gravel seems to be the most common problem.
Corona and Flushing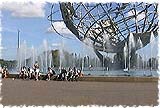 The Unisphere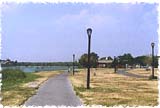 Meadow Lake Path
Flushing Meadows-Corona Park is an excellent site for new skaters and offers a small loop which speedskaters may enjoy.
The area north of the Long Island Expressway (I-495) focuses on the Unisphere, the giant open-grid globe left over from a World's Fair. Paths and roads in this section of the park are generally in very good condition, and those within a few hundred yards of the Unisphere are excellent. Circling the Unisphere itself is a walkway of hexagonal bricks that is in good shape; the only problem here comes from water from the fountains which coats the downwind part of the walkway. One or two very tame step sequences (no more than four steps) are nearby. This area is also supposed to be well-lit at night.
One potential problem with the northern part of the park is traffic. The east side can be packed with soccer players and their families on weekends, but even so, most paths around the park will seem pretty quiet by Manhattan standards.
South of the Long Island Expressway in Flushing Meadows-Corona Park is Meadow Lake. It's circled by two bike/skate/walking paths, which have a circumference I'd estimate at about 2.5 to three miles. We didn't notice any markings which would indicate restrictions on what kind of activity or direction of travel is intended for which path. The quality of the paths' asphalt is generally good, but there are a couple areas on the west side of the lake where there are significant sand and/or mud patches. Thus, speedskating these paths would not be advised when lighting is poor and could even be a bit risky when it's dry. One other problem here is that because the path is so open, there are no windbreaks to minimize headwinds.
Northeast Queens
(Bayside, Whitestone, and Oakland Gardens)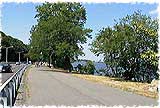 Little Neck Bay Bikepath
Little Neck Bay Bikepath:
This Bayside waterfront path is very flat and an easy skate. It runs along the eponymous bay from the entrance to Ft. Totten down to Northern Blvd. There is a more recent extension on the north end that runs along Little Bay from Ft. Totten westward to the Throgs Neck Bridge, and terminating at the intersection of Utopia Parkway and Cryders Lane. Total length is about 3.0 miles.
There is a marina near the midway point of the bikepath where you can stop for refreshment. Just watch out for traffic while passing through the parking lot.
Overall the path is very skateable. The section south of the marina was in near perfect condition in spring 2020 and appears to have been resurfaced within the past year or so. The section by the marina and parking lot sees the most use and is in so-so condition. The exposed nature of the path does mean that wind can be a problem, typically resulting in difficulty skating south and great ease going north.
Harvey Park:
This park at the northeast corner of the intersection of the Whitestone Expressway and 20th Ave. has a number of nice asphalt paths and a rink-like area. The latter is lit until about 9:30 PM during the summer and is pretty smooth. It's also practically never crowded despite the occasional pickup rollerhockey game.
Vanderbilt Motor Parkway:
This path follows the route of a very old highway, now no longer used by autos. It's generally pretty shady and quiet. However, the path pavement is often dubious, and the tree cover means that there can be real problems with twigs and such. Consequently, this is not a location that new skaters should attempt. The Vanderbilt path roughly parallels Richland Ave. Access points can be found in Cunningham Park, near the intersection of Hollis Hills and Richland, and at the south end of Alley Pond Park.
Central Queens
Forest Park:
Forest Park Drive between Woodhaven Blvd. and Metropolitan Ave. is closed on weekends for recreational use (it was also closed on the one weekday that we visited, but this may have been because of a fallen tree trunk blocking part of the road). This is a two-lane road through about 1.5 to two miles of mild rolling hills, shared with pedestrians, joggers, and cyclists. The hills are perhaps a little too steep for new skaters but are mild compared to a couple in, for example, Central Park.
This is a pretty place containing some fairly dense forest, so woodsy smells are more likely to tweak your nose than auto exhaust. The thick trees also mean that you should pay attention to twigs and other clutter that might try to trip you up. After a good rain or wind storm, the tree clutter on the road can be especially bad, sometimes to the point that the road is unskateable.
The section of Forest Park Drive west of Woodhaven Blvd. is always open to auto traffic except late at night, but traffic here seems mostly limited to getting in and out of the golf course. This section of the road is more one large hill than several small rolling hills, so you can build up some pretty good speed on the downslope. But even though traffic is not heavy, please be careful skating here.
Just southeast of the intersection of Woodhaven Blvd. and Myrtle Ave., there is a paved baseball field, apparently known as Victory Field. This is an excellent place to skate, especially for new skaters. However, ball players show up fairly early. If you want to skate here on a weekend, arrive before 9:00 AM.
Mafera Park:
Located at 65th Place and 68th Ave. in Glendale, Mafera Park has a rollerhockey rink which was renovated in 2007. However, the rink is used by the large 104th Precinct Roller Hockey league and is likely to be in use much of the time.
Juniper Valley Park:
This park in Middle Village has a nice assortment of paths which skaters will likely enjoy. However, it also gets a bit thick with pedestrians at times.
Rockaway
There is a greenway path providing perhaps a four-mile roundtrip skate in the Riis Park/Gateway National Park area, located at the foot of the Marine Parkway Bridge. Additionally, the "boardwalk" of Riis Park is actually concrete and you can keep heading west into Fort Tilden. This route brings you right along the ocean, and has been called the "best kept secret" in the city.