The New York City Inline Skating Guide
Where to Skate: New Jersey
---
---
---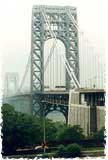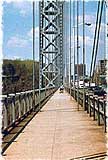 The GW
Technically it's not even New York State, but if you're in the mood for a workout, you can try out what is sometimes called "The Hoboken Run", a skate up Manhattan's Riverside Dr., across the George Washington Bridge to Fort Lee, and then south along the New Jersey side of the Hudson River to Hoboken, where you can catch the ferry or PATH back to Manhattan.
Starting out, take Riverside all the way up to 165th St., then climb the (really steep) hill one block up to Ft. Washington Ave. and turn left. Head north (perhaps stopping at the Snapple stand at 168th St.) to 177th St. Turn left again and descend two (steep) blocks to Cabrini Blvd.; immediately hang a right and go one block. This should place you right at the base of a narrow curving ramp up to the walkway on the George Washington Bridge (the GW). Be careful going up the ramp as there may be cyclists and skaters coming down. Once on the bridge proper, the walkway is fairly wide and in good shape, and you can just skate over to Fort Lee, New Jersey, stopping at the halfway point for a breather and to enjoy a nice view of the Hudson River and the Manhattan and Jersey shores. (There is another walkway on the north side of the bridge, but it involves negotiating about six stairways and its gate often seems to chained shut.)
Once you've crossed over to Fort Lee, you have two basic choices for your trip south to Hoboken.
But before we discuss routes, it's time to pay heed to the fact that once you're in Jersey, different customs rule the road. Although New Jersey has skate-friendly law on the books, it can be overridden by any local authority which wishes to do so. And given that you can switch towns and police departments by travelling incredibly short distances in this section of New Jersey, it can be difficult to know whether the particular block you're skating in is legal or not.
Assuming you've decided to risk it, then you must strive to be cautious and polite, as NJ cops and civilians are generally less amused and/or tolerant of skaters than their New York City brethren. Be sure to skate in single file all the way to to the right side on any city streets you take. If you don't, you will get abuse from Jersey drivers, some of whom can be quick to grab for their cell phones to call the cops and complain about those nasty skaters endangering the auto traffic.
Also, New Jersey police may exhibit schizophrenic behavior in regards to skaters on the roads. Even allowing for the law situation mentioned above, you also have to watch out for conflicting behavior within each town. For example, I have encountered extremes in behavior by the Fort Lee police, with one officer being very cool about telling members of a group skate to be sure to stay on the side of the road and doublecheck their blinky lights. Then three weeks later the same group following the same route encountered an officer who said if he ever saw them on Palisade Ave. again, he'd have the whole lot thrown in the clink.
Anyway, about the routes to Hoboken:
River Road:
Once you've crossed the GW and are in Fort Lee, immediately turn left on the first street you encounter, Hudson Terrace, also marked as Bergen County Road 505. Just follow Hudson Terrace south several hundred yards and it will turn into a road descending the Palisades toward the flats alongside the river. You will pass through a couple important intersections and Hudson Terrace will merge into Main St. and then River Road. Just keep heading generally south. The main thing to worry about along here is that the road is steep (dangerous to descend, and hell to ascend), somewhat curvy, auto traffic is incredible, and there is virtually no shoulder where you can stop to rest. Thus, excellent braking skills are required, and you should be prepared for Jersey drivers who strongly believe that skaters shouldn't be allowed on public roads.
After something like a mile to a mile and a half of downhill, River Road finally comes to the flats alongside the Hudson River and the skating becomes much more pleasant. Much of the road to follow is in good shape, especially in the north, but there will be extensive sections where the shoulder is non-existent, and of course there's still a lot of traffic. Six or seven miles along this road will bring you to the big parking lot at Lincoln Harbor, although you can bail out a bit short of there and catch the ferry to Midtown Manhattan.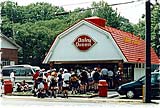 Ft. Lee Dairy Queen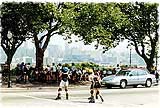 Hamilton Park in West New York
Palisade Ave. and Blvd. East:
A route occasionally taken by the Tuesday Night Skate reaches Hoboken along the top of the Palisades, offering the chance to stop at one of the parks along the way to enjoy the view of Manhattan. For the less ambitious, there's a Dairy Queen on Palisade Ave. at Central Blvd. in Fort Lee that makes a good turnaround point.
As with the River Road route, you turn left onto Hudson Terrace immediately after you cross the George Washington Bridge. But this time you only stay on Hudson Terrace for a hundred yards or so, turning right at the first stoplight you meet (at Bridge Plaza) and then going uphill another couple hundred yards to the next stoplight, at Hudson St. Turn left and skate a couple hundred yards and you will find yourself on Palisade Ave. (but regarding Palisade Ave., note the comment above about weird behavior from the Fort Lee police).
You'll skate about 3.5 miles on Palisade Ave. before you get to the Hudson Heights section of North Bergen. Here you need to turn left onto Woodcliff Ave. After a fast and steep downhill, Woodcliff turns into John F. Kennedy Blvd. East which you follow another 2.5 miles south into Weehawken. There are wonderful views of Manhattan from scattered points along Blvd. East, especially from various narrow parks along the top of the cliffs in West New York (Note: Some of these parks have "No Rollerblading" signs and other park users won't be shy about bringing them to your attention). But be careful on Blvd. East as there are some sharp turns along this busy road, and long stretches of it are nastily grooved, as if they tried to scrape it with a snowplow set too low.
Just past Hamilton Park in Weehawken, Blvd. East hangs a big right and becomes Highwood Terrace. A few blocks west after you've gone up and over a big hill is a stoplight at the intersection with (surprise!) Kennedy Blvd. You need to turn left at the light. Be super cautious because Kennedy Blvd. here is steep and very busy as it passes under the highway which leads to the Lincoln Tunnel; it's probably best for all if you use the sidewalk, but keep your speed under control. Just past the highway you should be able to make a left onto a side road called Baldwin Ave., which will take you down into the Lincoln Harbor area. Again be careful on this road as it is also a bit steep and there are railroad tracks to cross at the base of the hill.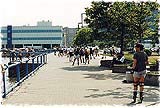 Lincoln Harbor
Lincoln Harbor and Hoboken:
Once in the Lincoln Harbor area, you can follow Harbor Blvd. south along the shore. After a few blocks it meets up with Park Ave., which you take south for a couple blocks to 14th St. Hang a left, and three blocks later you'll reach Washington St, where you can turn south. Alternatively, go one more block toward the Hudson River and turn south onto Hudson St., and then switch over to Sinatra Dr. for a nice view of the city. Just be careful of the traffic on Sinatra Dr.
Once down Washington St. or Sinatra Dr. about a mile and half, you'll find yourself at the southern end of Hoboken. Take Newark St./Hudson Pl. toward the river for a block or so and you'll find the ferry and PATH stations. While you'll have to take your skates off in order to board the ferry, it is apparently okay it wear them into the PATH system, although for safety reasons you may want to take them off anyway.
Waterfront:
There are some spectacular views of lower Manhattan from several places on the Jersey City riverfront which are accessible by skate. For example:
If you've arrived in Jersey City via the PATH train to the Exchange Place Station, turn around and skate toward the Hudson. Once you've tired of the view of lower Manhattan, directly across the river, skate inland a couple blocks to Washington Blvd., and turn north. Periodically, you will be able to turn off Washington Blvd. toward the river to get to other viewpoints, including public waterfront walkways just beyond the Avalon Cove apartment complex and near the Newport Fitness Center on the Pavonia Ave.-River Court-River Dr. South loop.
Past River Dr. South, Washington Blvd. curves inland. When it intersects with Luis Muñoz Marin Blvd. turn north for a block and you'll meet the Observer Hwy. in Hoboken. The Hoboken ferry PATH station are just a few blocks to the east.
The route from the Exchange Place to Hoboken stations is pretty short, so once at the latter, you may want to skate north along the river, turning onto Sinatra Dr. at 4th St. and then go an extra half mile or so to the riverfront park before turning back around.
Liberty State Park:
This is a large, very flat park right on the New York Bay waterfront. Sounds terrif for skaters, right? Actually, no.
Since the park is on the Jersey side of the bay immediately adjacent to Ellis Island and the Statue of Liberty, the views are wonderful. And while the various pathways and such all seem to have been constructed in the 1990s, most of them are not built for skaters.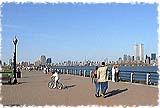 Liberty State Park promenade.
For example, there's a very long waterfront promenade -- easily over a mile, perhaps close to two -- stretching from north of Ellis Island down to below the Statue of Liberty. It's flat as a board and so new that most maps I've seen still include the various docks that it replaced. Unfortunately, the promenade is paved with bricks that have beveled edges, so it's difficult to get up to cruising speed. Newbie skaters will likely have trouble here since such bricks have a tendency to trip up slower-moving skaters.
Okay, there are a couple places in the park that are skateable. There is an asphalt path running parallel to the promenade a few hundred yards inland. It, however, doesn't share the view and probably isn't long enough for experienced skaters to get anything approximating a workout. Newer skaters will find it okay, and plenty will be spotted skating along the path. The other spot in Liberty State Park that seems to get a few skaters is the parking lot (!) at the northern end, which is fairly large and apparently half empty on most weekends. Note, though, that this lot serves the ferry terminal, so there will be times when it is full up.
If you do head for Liberty State Park, have fun getting there. The north entrance road at least is paved with... brick.
If you're interested in skating north of the GW, the following description of the River Road was provided by Stern:
After crossing the [George Washington] bridge [from Manhattan], take a right onto [Hudson Terrace, aka Bergen Country Road 505]. The traffic isn't bad and the rolling hills make for a nice workout. About [10 minutes] down the road, the highway will come to a T intersection [with Palisade Ave., though not the same Palisade Ave. mentioned above], where you will have to turn either right or left. Go right. Almost immediately, you will face an entrance to Palisades Park, easily recognizable by the precipitous drop and the signs that say "Bicycles Not Allowed on Roadway.

This is the steepest, most dangerous route into Palisades Park. It is also, by far, my favorite. You will probably wear down a bit of brake on the descent. It will be hell on your wheels if you use a T-stop to control speed.

There are two routes on the River Road [aka Henry Hudson Dr.] from the entrance road. If you go to the very bottom, you will be facing south. The pavement there isn't great and there isn't much road before you pop out in Fort Lee. If you take the northern road before the final switchback, you get a much longer, prettier run.

The route is a couple of miles along the Hudson, rather hilly. The final ascent is particularly painful, though I've been rewarded by ovations from groups of cyclists at the top. (There will be bikes along the entire route).

[...] there's a police station with a blades-accessible water fountain at the top of the big hill at the north end of Palisades Park. The thought of that fountain can be a powerful incentive to finish the ascent.

I typically come back by retracing the length of the River Road, all the way back under the GW Bridge, to Fort Lee, then climbing the hill back to the entrance of the bridge. Keep in mind that this final stretch, along the road between the exit to the park and the base of the bridge, has terrible traffic.

The whole trip, from W. 100th St. [in Manhattan], to the River Road and back again, takes about four hours, is totally exhausting and lots of fun.
Nyack isn't in New Jersey, but the route which many skaters started taking to get there in 1996 (following a route which cyclists have been using for years) involves a jaunt through Jersey and so is discussed here. A round trip skate from Central Park in Manhattan to the George Washington Bridge, up to Nyack, and back is about 50 miles. Stern reports on how to do it:
After crossing the [GW] bridge, turn right onto Bergen County road 505 [aka Hudson Terrace]. This parallels the Palisades Parkway and the River Road. [As noted above, where Hudson Terrace ends in a T intersection,] a right turn takes you to one of the entrances to Palisades Park and the River Road. We don't want to go that way for now. Instead, turn left and you will see Route 9W, which will take you most of the way to Nyack. [Careful here. The intersection with 9W is on the other side of the entry to the Palisades Parkway. Be sure you don't turn too soon.]

Skate [up] 9W in the same direction that you had been taking route 505. After about [a] mile, there is a gas station on the left, on the opposite side of the road. This is your only opportunity to get water for about ten miles, so take advantage of it.

Continue [on] 9W, staying close to the right side to avoid traffic. [During the first few miles there is no shoulder to the road, so be cautious. There will be a shoulder you can skate in when you get to Tenafly.] There's about ten miles of uninterrupted road -- no intersections [and almost no] stoplights. This is a great place to form a paceline, if you have a group of skaters. You will eventually cross back into New York, a sign that you near your objective.

After passing Tallman State Park, look for Route 340 to your left. It angles downhill from 9W. Watching for oncoming traffic, switch to 340. At the bottom of the hill, just past the steakhouse, there's an intersection. Turn right into Piermont, New York. It's a cute town; you should have a little stream to your left, with birds and other wildlife cavorting about. Stay on this road; it veers to the left at one point, but stay on it. It takes you through downtown Piermont, past the Tappan Zee Bridge, then on to Nyack.

You can continue into Nyack as far as you like. There's a big park near the far end of town, above the public pier. You can, if you so care, descend to the Hudson and play in the water for a while. This is great on a hot day. When you get bored, return home.

On the way back, you might want to stop at the Piermont Community Market. They make great sandwiches, though service is slow and the place is emphatically not skate friendly.
A final note: It might seem like an interesting idea to skate up 9W to Nyack, then cross the Tappan Zee bridge and return to the city along Route 9 (Broadway) on the east side of the Hudson. Unfortunately, the Tappan Zee does not have pedestrian access.