The New York City Inline Skating Guide
Where to Skate: Skateparks
---
---
---
Information about all NYC public skateparks operated by the New York City Department of Parks and Recreation can be found at www.nycgovparks.org/facilities/skateparks. All city-operated parks require a waiver; a copy is available on the website.
And of course there's NewYorkCitySkateparks.com.
---
Hudson River Park - Pier 62 Skatepark
Pier 62 in Hudson River Park, 22nd St. at West Side Hwy.;
212-627-2020; info@hrpt.state.ny.us
The public park operated a couple of temporary skateparks, first in Tribeca around in Vestry St., and then further north at 30th St. near the heliport. In May 2010 they officially opened a permanent skatepark on Pier 62 at 22nd St. This is the same pier as where Chelsea Piers used to operate a skating rink and skatepark, but the new facility is publicly owned.
The park requires a helmet and recommends other padding, but the facility is unsupervised, so it's not clear how if at all HRP will enforce that. No waiver is required, but the park website (and presumably signage) says "Enter at your own risk." Admission is free and the park is open 8 a.m. until sunset. It is closed in winter.
The facility is concrete and has a variety of skate toys, all designed to fit into an ovular shape with "natural" curves.
Lower East Side (Manhattan Bridge) Skatepark
Manhattan Bridge at Monroe St.;
212-219-0258;
www.nycgovparks.org/parks/M019/facilities/skateparks
City-operated facility located directly under the Manhattan Bridge and adjacent to Coleman Playground. There are various skate toys, but as of June 2011, the site is reported to be worn out and badly in need of renovation. Also known as the Coleman Square Skatepark and as the Chinatown Skatepark.
Riverside Skate Park
Riverside Park, Riverside Dr. at 108th St.;
212-408-0265 (office of Riverside Park administrator)
nycgovparks.org/sub_things_to_do/facilities/skate_parks/riverside.html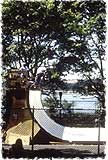 The first of the new public skateparks to open in the mid 1990s and later. It opened about Labor Day 1996 and for awhile was one of only two such parks in the city, along with Mullaly in the Bronx. It was most recently renovated in 2013.
In terms of the "three-tier" description of Riverside Park in the Manhattan section of this guide, the skate park area is on the lowest tier. It is immediately adjacent to the Henry Hudson Pkwy., but between the highway and the rest of the park rather than alongside the river. Just enter the park at the stairs on Riverside Dr. at 108th St. and keep heading downward and toward the river. The skate park is a freshly asphalted area in the midst of a strip which includes a bunch of basketball courts, some volleyball courts and a softball diamond.
Admission was free at last report. Full armor (helmet, kneepads, elbowpads and wristguards) and signed waiver are required.
The park is open from mid April to late October, and perhaps into November if weather permits. Hours vary. During June through August, hours are 11 a.m. to 7 p.m. In other months, Monday, Thursday, and Friday hours are 3:30 - 7 p.m. and weekends Saturdays and Sundays 11 a.m. to 7 p.m.. Always closed on Tuesdays and Wednesdays. When closed, large pipes are chained down across the half-pipe and ramps, so it's not worth trying to jump the fence after hours.
Hamilton Bridge Skatepark
Highbridge Park, Amsterdam Ave. at 181st St;
http://www.nycgovparks.org/facilities/skateparks
A long time in the making, this new skatepark opened late 2013 and is said to be the largest park in the city. It's a bit tricky to find because it's under a bridge. Head for the Washington Bridge at Amsterdam and 181st and look for a bikepath on the south side heading down into Hrdighbridge Park. Follow the path and you should find the skatepark underneath the Hamilton Bridge at 179th St.
---
KCDC Skateshop
99 North 10th St., Williamsburg
kcdcskateshop.com
Skateboard shop which has an 8-ft halfpipe indoors at the shop.
Millennium Skatepark at Owl's Head
Shore Pkwy. at 68th St
nycgovparks.org/sub_things_to_do/facilities/skate_parks/millennium.html
A mostly concrete outdoor skatepark which opened in summer 2001. This is a public park, and the last we heard, admission was free. The schedule seems to differentiate between skateboard and BMX times, so we're guessing that inliners get in when the boarders do.
According to an article in The New York Times, this park was projected to cost $650 thousand! But reports are that it's well-designed and well-built. One section is a street course, and the other a combination of bowls.
---
Bronx Park
Bronx Park, Bronx Park East at Britton St.
www.nycgovparks.org/parks/bronxpark/facilities/skateparks
Public skate park which opened in summer 2008 alongside a new soccer field. Area is about 6000 square feet, but no reports yet on the facilities.
Parks Dept. info indicates an attendant is there to collect waivers and check for armor, but that activity is otherwise unsupervised.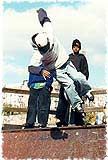 Mullaly Park
164th St. and River Ave.;
nycgovparks.org/sub_things_to_do/facilities/skate_parks/mullaly.html
This park just north of Yankee Stadium was until the mid 1990s the only place in the city that could be called a skate park. On chilly autumn mornings, you could find kids sneaking in and wiping the dew off the decrepit mini-ramp so that they could get a few runs in before the gates were opened and a line formed.
The park has since then been renovated at least twice in the past 15 years, first in early 1998 in preparation for a BMX bike competition. But things were let slide, and by 2003 the various skatetoys were again in bad shape and the city basically kept the place closed and skaters would have to sneak in. Another reno was done in late 2003.
Neither renovation has catered to inline skaters, so aggressive bladers will have their gripes about the orientation of the park features. Nevertheless, the park was at last report in good condition and running smoothly. If you're in northern Manhattan or the Bronx, it's close by and cheap.
Mullaly's future could be in doubt. Construction of New Yankee Stadium consumed much of what was Macombs Dam Park, south of 164th St. The north side of the new stadium facilities is 164th St., directly across the street from the skatepark. But if the skatepark condition is let slide again, will the city decide they no longer want a scruffy skatepark next to Yankee Stadium?
---
Forest Park Skate Park
Forest Park, Woodhaven Blvd. at Myrtle Ave.
nycgovparks.org/sub_things_to_do/facilities/skate_parks/forest_park.html
Public skatepark which opened summer 2003. Located at the Greenhouse basketball courts. Photo ID and waiver required.
Rockaway Skate Park
Shore Front Parkway at Beach 91st St., Rockaway
718-318-4000
nycgovparks.org/sub_things_to_do/facilities/skate_parks/rockaway.html
An outdoor public skatepark which opened in September 2004. Local skaters and boarders were able to contribute suggestions during the design process, so we expect it turned out to be pretty skateable. There are ten ramps and several rails. Armor and waiver required.
Open mid April to mid October. Hours are 1:45 to 4:45 p.m. Monday through Friday, and 1) a.m. to 5 p.m. om weekends.
Thanks to City Council Member Joseph Addabbo, Jr., for arranging for city funds to be allocated for construction of the two parks in Queens.
---
Ben Soto Skate Park
Midland Beach playground, Midland Ave. west of Mason Ave. (about 12 blocks off Father Capodano Blvd.)
718-816-6172
nycgovparks.org/sub_things_to_do/facilities/skate_parks/benjamin_soto.html
Public skate park which opened in April 2005. Included a quarter pipe, jump box and various rails. Open to BMX cylists, boarders and inliners.
However, the Parks Dept. removed and threw out all the equipment in April 2011 saying it was no longer in acceptable condition. At the time, plans for refurbishing the site included little more than stairs and a rail, but the borough Parks commissioner claimed they would work with area residents to come up with something better.
---
Skateparks on Long Island used to come and go practically with the seasons, but things seem to have stabilized now that some of the towns have opened public parks. Nevertheless, if you run into some out-of-date info here, please let us know.
Baldwin Skatepark
Baldwin Park, Baldwin, Hempstead;
townofhempstead.org/content/rc/baldwinskate.html
Publicly owned outdoor park which opened 2002. About 11k square feet, open to boards and inlines but no bikes. ID and protective gear required. Website also says proof of residence required, without indicating whether non-residents can use the park at all.
Located about 2 miles south of the Baldwin station on the LIRR.
Greenport Skate Park
Moores Lane, Greenport;
www.greenportvillage.com/skatePark.htm
Free public outdoor skate park almost all the way to the east end of Long Island. Located on Moores Lane about a block north of Front St. and about 3/4 of a mile from the Greenport train station.
Huntington SkatePark
Greenlawn Park, Broadway and Cuba Hill Road, Huntington
(631) 351-3089 (office of Parks Dept director)
town.huntington.ny.us/department_details.cfm?ID=57
Publicly owned park which opened May 2004. About 9k square feet.
Usage fee is $5 per session, $40 per season for resident; $10 per session, $80 per season for non-residents.
Inline 1 Sports Center
Hallock Ave. / Route 25A off Crystal Brookhollow Rd., Mount Sinai;
631-474-2900
www.inline1.com
Outdoor park. Over 14k square feet. Open seven days a week weather permitting, and open after dark.
Located about a mile east of the Port Jefferson Station on the Long Island Rail Road.
Oil City Skate Park
3565 Maple Court, Oceanside;
516-594-1888
www.oilcitysk8.com
Apparently the only indoor skatepark on Long Island.
The closest mass transit option is the Oceanside station of the Long Island Rail Road, about one mile to the north.
---
Drop In Skate Park
#143 Route 59 East, Hillburn Industrial Park, Hillburn, NY
845-357-2828
www.dropinskate.com
Formerly located in New Jersey but now moved just barely across the border into Rockland County, close to I-87.