Clubs and Leagues: Roller Hockey
---
There are innumerable playgrounds and schoolyards around the city being used for rollerhockey, formally or not. Just keep your eyes open for hockey activity when you pass one in your neighborhood. Also check out the NYC Parks Dept. rollerhockey venues list.
If you're interested in forming your own rollerhockey league, you probably need to check with USA Hockey Inline for info about insurance, standardized rules, etc.
Some info on this page has not been updated since the late 200Xs. Updates are appreciated.
Manhattan
Working our way north from Downtown to Inwood...
Civic Center/Two Bridges: Way downtown, the Moffo hockey rink has been located in Tanahey Playground since the 1970s. Word in early 2016 is that organized play here is mostly street hockey in shoes, but that there is some pick-up rollerhockey Saturday mornings and maybe Thursday evenings. The nearby Al Smith Rec Center (212-285-0300) may have more info.
Greenwich Village: The playground at the intersection of Houston Street and Sixth Ave. was a rollerhockey hotbed in the 1990s, and play continued there until at least 2013. At that point, the group who organized play on weekends were unable to re-new their permit with the Parks Dept.
Alphabet City/East Village: The northwest corner of Tompkins Square Park, at Avenue A and 10th St., is a paved playground marked for baseball. There are casual pick-up rollerhockey games summer weekday evenings, typically Tuesday and Thursday.
Stuyvesant Town: East of First Ave. at about 16th St. is a sunken playground that is also host to frequent pick-up rollerhockey, similar to the Houston St. venue in surface, atmosphere, and number of players.
East Midtown: Robert Moses Playground at First Ave. and 42nd St. was painted for rollerhockey and was home to the East End Hockey Association, active in rollerhockey since 1972. However, in summer 2021, the playground was covered with synthetic turf. (Note also that this playground would get cut up if plans for expansion of the U.N. facilities ever get moving.)
Central Park: The "Dead Road" in Central Park sees pick-up activity with perhaps a dozen players on weekends in late morning and continuing until the Dance Skaters set up, and on weekdays after school/work hours. The Central Park players prefer a mellower, less competitive atmosphere than other pick-up hockey locations around town.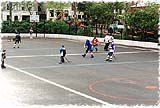 Upper East Side/Yorkville: There has been a nice rollerhockey rink in the south end of Carl Schurz Park (East End Ave. at 86th St.) since the early 1990s, and it's been re-surfaced at least twice during that time.
Just a bit north, Stanley M. Isaacs Park at 96th St. between First Ave. and the FDR has long had a reputation as a happening rollerhockey venue, and that was before a "real" rollerhockey rink was laid out. The park was further renovated in 2000, and the excellent albeit a bit small rollerhockey rink re-dedicated as the Paul McDermott rink. Youth hockey at Isaacs is organized by the Yorkville Youth Athletic Association.
In summer 2007, Manhattan Roller Hockey League, a group of adult teams who formerly played at Chelsea Piers, began organized play at Isaacs Park. As of spring 2019, it seems that up-to-date info about what is now called the NYC Roller Hockey League could be found on their Pointstreak page.
Hamilton Heights: Riverbank State Park, along Riverside Dr. at 145th St., offers open rollerhockey sessions at its covered skating rink during the summer. Check the state's park website for program info. The park phone number is (212) 694-3600 and the skating rink office is (212) 694-3642.
Washington Heights: There is an established pick-up hockey group who play Saturday mornings from 10 to noon at J. Hood Wright Park, on Fort Washington Ave. between 175th and 176th St. There is no hockey rink in the park, but as at Tompkins Square and elsewhere, there is a painted asphalt baseball diamond which serves the need.
Inwood: And all the way uptown, there is a rollerhockey rink laid out in Dyckman Fields, in Inwood Hill Park along the Hudson River. However, it looks like no one uses it for hockey anymore — if you do see anyone using it, they're more likely playing pick-up volleyball. As of 2018, the asphalt condition has been pretty iffy (cracks, with weeds) for at least ten years. A Parks Dept. master plan dated 2011 for the northern Manhattan parks shows the rollerhockey rink would eventually be replaced by a soccer field.
Brooklyn
Borough Park: The rink at Betty Rappaport Playground, 53rd St. and Fort Hamilton Pkwy., hosts regular league activity organized by the Fort Hamilton Roller Hockey League.
Sheepshead Bay: A rink at 2665 Coyle St. and Voorhies Ave. is home to youth and adult hockey play. Youth play is organized by the Kings Bay Youth Organization and offers leagues for anywhere from age 5 to age 17. Adult play is organized by the Brooklyn Hockey League.
Bergen Beach: There is a rink tucked away in Joseph Thomas McGuire Park in Mill Basin. Enter the park at the corner of Bergen Ave. and Avenue W and cross the baseball field. The rink is alongside the tennis courts. There is or was a youth league organized by the Bergen Beach Youth Organization.
Williamsburg: A pick-up hockey group was reported in spring 2009 to be playing Sunday afternoons on one of the tennis courts on Rodney St., between Division Ave. and Broadway.
Queens
Generally working west to east...
Long Island City: Outdoor rink at Dutch Kills Playground, 27th St. and 37th Ave.: The last time we were in the area (admittedly a long time ago), this rink looked especially nice.
Fresh Pond/Glendale: The 104 Precinct Youth Council organizes the 104th Precinct Roller Hockey League. They normally use the rink in Mafera Park, 65th Place and 68th Ave., which was renovated in summer/autumn of 2007. As of December 2007, a new mens' league was expected to begin play soon.
Middle Village: Outdoor James Bohan rink in Juniper Valley Park, located between the football/soccer field and baseball diamonds and not far from the intersection of Lutheran Ave. and Juniper Blvd. North. In use by the Middle Village Roller Hockey League, a youth organization. No info about whether there is adult league or pick-up activity.
College Point: Outdoor rink at College Point Sports Fields, at 25th Ave and 130th St. This location is apparently devoted to organized play by the College Point Roller Hockey league.
Whitestone: Outdoor rink in George Harvey Park, alongside the Whitestone Expressway and near the intersection of 15th Ave. and 144th St. This was reported in February 2007 to be heavily used by youth league activity, but then the following December no longer so. As of the start of 2008, pick-up games were occurring fairly regularly — including Sunday, Monday, Wednesday and Thursday evenings and Saturday and Sunday morning — but evening play closes down if the Parks Dept. turns off the lights early.
Fort Totten: Outdoor rink in Little Bay Park alongside the Cross Island Parkway between the Throggs Neck Bridge and Fort Totten. As of December 2007 it was reported to be in poor shape (and had been for some time) and considered unsafe by some players.
Fresh Meadows: In Kissena Corridor Park East, by the intersection of Peck Ave. and 189th St., there is a playground area painted for rollerhockey.
Rockaway/Seaside: There is a rink painted for hockey alongside the beach at the Beach 109th Street Playground, at the west end of Shore Front Pkwy. The current rink was re-constructed in 2015 after a prior facility was damaged by Hurricane Sandy. As of spring 2019 was hosting organized play by the Rockaway Rockies.
The Bronx
Morris Park: There is an outdoor rink laid out in Loreto Park, on Morris Park Ave. between Haight Ave. and Tomlinson Ave. The rink was put in in 2003 where there used to be a softball diamond.
Staten Island
Manor Heights: There is organized and open rollerhockey play at the indoor rink at Sports Park at 215 Schmidts Lane, alongside the Staten Island Expressway near the Slosson Ave. exit.
Prince's Bay: There is an outdoor city-owned rollerhockey rink in Wolfe's Pond Park, close to the intersection of Chester Ave. and Cornelia Ave.
Westchester
Yonkers: There is a seasonal rollerhockey league at the E.J. Murray Skating Center on Tuckahoe Road. See their Facebook page for more news and info. Details about the rink itself are on the Yonkers city website.
Long Island
Old Bethpage: There are multiple rollerhockey leagues, as well clinics and camps, at the Skate Safe America rink on Sweet Hollow Road. See the rink website for info.
Professional Rollerhockey
Major League Roller Hockey had a couple teams in the metro area, and as recently as 2005 the New York Rockers, playing in Edison, N.J., won the men's league championship. Whether or not there is a New York metro area team in the league seemed to change year to year. There seems to have been no NYC-area team since the NJ Rockers played the 2010-2011 season, and at last check the league was not operating at all. See MLRH website for the most recent info.
Roller Hockey International peaked a long time ago in about 1995 but then folded a few years later. RHI had a checkered history, annually alternating between expansion and dropping teams. It last played in 1999. The New Jersey Rockin Rollers played at the Meadowlands in East Rutherford, NJ, from 1992-1997, and the Long Island Jawz played at the Nassau Coliseum in 1996.